---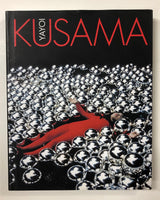 Yayoi Kusama Edited by Franics Morris
with contributions by Jo Applin, Juliet Mitchell, Frances Morris, Mignon Nixon, Rachel Taylor and Midori Yamamura


4to. pp. 208. profusely illustrated. index. bds. dw. [New York]: D.A.P. / Distributed Art Publishers Inc. [in association with London, Tate Publishing, 2012].


Published on the occasion of the exhibition at Reina Sofia, Madrid; Centre Pompidou, Paris; Tate Modern, London; Whitney Museum of American Art, New York.


New.


ISBN-10: / ISBN-13: 9781935202813

_____________________________________________________________________________________________

The definitive monograph on Japan's most famous living artist

 
Yayoi Kusama [b. 1929] is arguably Japan's most famous living artist. Her originality, innovation, and powerful desire to communicate have propelled her through a career that has spanned six decades. During this time, Kusama has explored painting, printmaking, photography, collage, film and video, performance and installation, and product design. In her ninth decade her imagination remains richly creative as she continues to extend the range of her large scale, dazzling installations and relentlessly handpaints extensive series of minutely detailed figurative fantasy paintings.

Accompanying a major retrospective exhibition at Tate Modern in London, subsequently touring to The Whitney Museum of American Art in New York, this lavishly illustrated book features essays by leading international critics covering Kusama's entire career.