---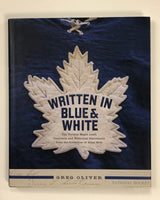 Written in Blue & White: The Toronto Maple Leafs Contracts and Historical Documents from the Collection of Allan Stitt By Greg Oliver



4to. pp. 192. profusely illustrated. boards. dw. [Toronto]: EWC Press, [2014].


New.


ISBN-10:
1770412158
/ ISBN-13: 9781770412156


________________________________________________________________________________________


Who knew that paperwork could be so fascinating? In Written in Blue and White , author Greg Oliver explores the fascinating archives of Allan Stitt, one of hockey's leading collectors, unearthing gem after gem that details the history of the Toronto Maple Leafs through the past century. In the early contracts of Leafs from the pastt you will see how clauses - and the game - evolved. Similarly, the personal correspondence between players and management paints a fascinating picture of what's changed - and what's remained the same - in the life of an NHL pro. Written in Blue & White offers a rare insider's perspective on everything it takes - from the most mundane of details to the height of political intrigue - to make an inconic franchise like the Leafs tick. In the Process it reveals what was behind Wally Stanowski's 1945 fine for $100 and, through receipts from the 1935 Stanley Cup playoffs, tells you just how much Conn Smythe had to spend... on oranges.

Since documents can't talk, Oliver seeks out the men behind the words, like former general managers Jim Gregory, Gerry McNamara, and Floyd Smith; players such as Ron Ellis, Dick Duff, and Darryl Sittler; and key behind-the-scenes people like trainers, agents, reporters, and publicists.
The documents that breathe life into Written in Blue and White are complemented by a wide variety of stunning and rare photos from the Hockey Hall of Fame archives,