---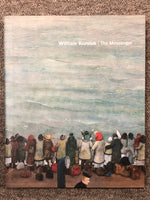 William Kurelek: The Messenger By Tobi Bruce, Mary Jo Hughes & Andrew Kear With Essays by Brian Dedora, Avrom Isaacs & Brian Smylski
4to. pp. 247. English & French text. profusely illustrated in colour, some b/w. hardcover. dw. [Victoria]: Art Gallery of Greater Victoria, [2011].

New and out-of-print.
ISBN-10: 0888853645 / ISBN-13: 9780888853646
________________________________________________________________________________________

Catalogue of a exhibition held at the Winnipeg Art Gallery, Sept. 29 - Dec. 31, 2011 and then travelling to the Art Gallery of Hamilton, Jan. 28 - Apr. 29, 2012 and the Art Gallery of Greater Victoria, May 25 - Sept. 3, 2012.
William Kurelek: The Messenger is the largest retrospective exhibition of the art of William Kurelek (1927-1977) to date, and the first in over 25 years.
Throughout a career that spanned from mid-1950s until his death, William Kurelek and his art have meant many different things to many people. Widely-known as a painter of innocence and childhood memories whose scenes hearken back to a simpler and timeless past, Kurelek was also a chronicler of the experiences of various cultural groups in Canada, devoting entire series to Ukrainian, Jewish, Polish, Irish, French Canadian, and Inuit peoples. Then there is Kurelek the anguished prophet of a modern apocalypse, his art an indictment of the secular age and a testament to unwavering faith. Few modern artists are so readily accessible, compellingly complex, and so worthy of critical reappraisal.