---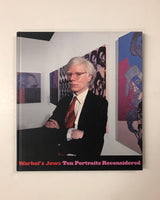 Warhol's Jews: Ten Portraits Reconsidered by Richard Meyer & Gabriel de Guzman


4to. pp. 64. profusely illustrated. boards. New York & London: Yale University Press, [2008].


New.


ISBN-10:
0300141157
/ ISBN-13: 9780300141153
______________________________________________________________________________________________

When it first appeared in 1980, Andy Warhol's Ten Portraits of Jews of the Twentieth Century was adored by Jewish audiences even as it aroused antagonism from critics. Why did Warhol create this series? How did he select the figures to be portrayed? How has the passage of time reshaped the meaning of these portraits?
This handsomely illustrated book examines the history of these silk-screen paintings and prints, delving into Warhol's refashioning of portraiture, his deep interest in repetitive art forms, and his embrace of commercialism. Richard Meyer shows how Warhol's unorthodox approach to portrait painting was a product of both his seriousness as an artist and his avowed interest in making money, and he explains how Warhol selected ten figures—from Bernhardt and Buber to Freud and Kafka—who would ensure the timelessness of his series. The volume, which also includes discussions of the celebrated subjects of Ten Portraits, images of related prints, and a timeline, offers new insights into a significant series by an iconic American artist.