---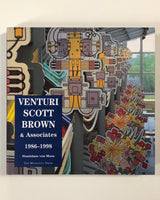 Venturi, Scott Brown & Associates: Buildings and Projects, 1986-1998 by Stanislaus von Moos
with project descriptions by Denise Scott Brown and Robert Venturi
and an interview by Mary McLeod



square 8vo. pp. 367. profusely illustrated. bibliography. bds. dw. [New York]: The Monacelli Press, [1999].


New.


ISBN-10: 1885254970 / ISBN-13: 9781885254979
_____________________________________________________________________________________________


The architectural partnership of Robert Venturi and Denise Scott Brown has long been known for its preeminent position in the theory and practice of architecture. Their writings, including Complexity and Contradiction in Architecture and Learning from Las Vegas, have profoundly directed architectural thought in the twentieth century. The firms built work - in its creative understanding of history and the everyday environment, its emphasis on multiculturalism and multimedia, and especially its consideration of iconography versus abstraction - has been equally influential.
This comprehensive monograph on Venturi, Scott Brown & Associates includes more than eighty buildings and projects; urban plans and development studies; important civic buildings such as the Sainsbury Wing of London's National Gallery; and a great number of projects at universities across the United States. Also presented are spectacular renovations for the Frank Furness library building at the University of Pennsylvania and Harvard's Memorial Hall and designs for houses, exhibitions, fabrics, furniture, and decorative items.
The catalog, written by the architects, focuses on important aspects of their practice in the late 1980s and the 1990s, notably the juxtaposition of a "hype" sensibility in decoration - manifested in large-scale LED signs and colorful supergraphics - and a generic architecture.