---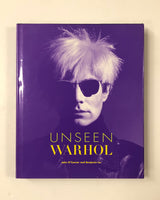 Unseen Warhol by John O'Connor and Benjamin Liu
4to. pp. 208. profusely illustrated. index. boards. dw. New York: Rizzoli, [1996].

New.
ISBN-10: 0847819671 / ISBN-13: 9780847819676

_______________________________________________________________________________________________
The paradox of Andy Warhol, who is at once one of the most visible and the most elusive figures of our time, is heightened by this collection of twenty interviews with the artist's closest friends and colleagues. Through their words a more complete picture emerges of the man behind the mirror. Their recollections form an ever entertaining, often fascinating oral history of his career. Complementing the text are more than fifty works from private collections and the Warhol archives, most of which have never been published before.

Interviews in the original Interview mode--direct and unedited--evoke the serendipity and laissez-faire creativity of the Factory, where Warhol reigned without ruling. Included are the stories of Vito Giallo, the studio assistant turned antiques dealer whose shop was a regular stop on Warhol's shopping itinerary; of Baby Jane Holzer, one of the biggest superstars of Warhol's underground films; of Bob Colacello and Marc Balet, former editor and art director at Interview; and of Billy Name, who literally lived at the silver-coated Factory during the turbulent sixties.

Photographs by Billy Name, Paige Powell, and other friends create a clearer, more intimate picture of the artist and all that swirled around him.