---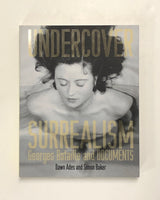 Undercover Surrealism: Georges Bataille and DOCUMENTS by Dawn Ades and Simon Baker
with contributions by Fiona Bradley, Neil Cox, Caroline Hancock, Denis Hollier, William Jeffett, CFM Miller, Michael Richardson, Ian Walker

4to. pp. 272. profusely illustrated. paperback wrs. Cambridge: MIT Press & Hayward Gallery, London, [2006].

Published in conjunction with an exhibition.

New.
ISBN-10: 0262012308 / ISBN-13: 9780262012300
_____________________________________________________________________________________________
An exploration of the unsettling collisions of art and culture in Georges Bataille's revolutionary journal and a new consideration of twentieth-century masterpieces by Picasso, Miró, Dalí, and others against the canvas of their renegade times.
In the Paris art world of the 1920s, Georges Bataille and his journal DOCUMENTS represented a dissident branch of surrealism. Bataille—poet, philosopher, writer, and self-styled "enemy within" surrealism—used DOCUMENTS to put art into violent confrontation with popular culture, ethnography, film, and archaeology. Undercover Surrealism, taking the visual richness of DOCUMENTS as its starting point, recovers the explosive and vital intellectual context of works by Picasso, Dalí, Miró, Giacometti, and others in 1920s Paris. Featuring 180 color images and translations of original texts from DOCUMENTS accompanied by essays and shorter descriptive texts, Undercover Surrealism recreates and recontextualizes Bataille's still unsettling approach to culture. Putting Picasso's Three Dancers back into its original context of sex, sacrifice, and violence, for example, then juxtaposing it with images of gang wars, tribal masks, voodoo ritual, Hollywood musicals, and jazz, makes the urgency and excitement of Bataille's radical ideas startlingly vivid to a twenty-first-century reader.