---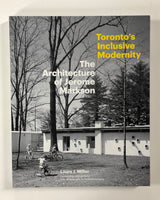 Toronto's Inclusive Modernity: The Architecture of Jerome Markson by Laura J. Miller
Foreword by George Baird
with photography by Scott Norsworthy


8vo. pp. 304. profusely illustrated. biography. wrs. Vancouver: Figure 1 Publishing, [2020].
New.
ISBN-13: 9781773270012

__________________________________________________________________________________________


Toronto's Inclusive Modernity: The Architecture of Jerome Markson is the first comprehensive, critical assessment of Markson's diverse body of work, which reflects the creative symbiosis that arose from his lifelong engagement with the post-war city of Toronto. Markson's nearly six-decade-long architectural practice maps a time of profound transformation for Toronto, and for Canadian society. His buildings, which include speculative homes for fledgling suburbs, bespoke private houses, social housing in downtown Toronto, luxury landmarks like the Market Square condominiums, and important cultural and institutional buildings, were harbingers of important shifts in sociopolitical attitudes, urban policies, and modes of architectural production. Markson pursued an open, inclusive expression of modernity that left behind late-Modernism's formal legibility in favour of an increasingly idiosyncratic formal, spatial, and material expression.
Markson's work is examined through three frameworks: his use of photography to situate architecture as an inclusive cultural medium; his nuanced responsiveness to Toronto's fast-evolving urban and suburban geographies; and the ways in which diverse influences—including the Finnish architect Alvar Aalto, Britain's Townscape movement, and vernacular architecture—were instrumental in his development of a more pluralistic, materially-oriented approach in his architecture.
Extensive illustrations include architectural drawings, contemporaneous images from popular publications such as Maclean's and Chatelaine, and photo-composites portraying selected Markson buildings as part of the larger urban scene within today's Toronto.