---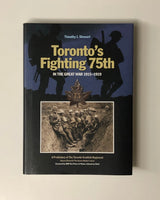 Toronto's Fighting 75th In The Great War 1915-1919: A Prehistory of The Toronto Scottish Regiment (Queen Elizabeth The Queen Mother's Own) by Timothy J. Stewart
4to. pp. xxiii, 526. maps & illustrations. fold-out map in rear pocket. index. hardcover cloth. dw. [Waterloo]: Wilfrid Laurier University Press, [2017].
New.
ISBN-10: 1771121823 / ISBN-13: 978177121828
_______________________________________________________________________________________________
Foreword by His Royal Highness Charles, Prince of Wales

Hospital ships filled the harbour of Le Havre as the 75th Mississauga Battalion arrived on 13 August 1916. Those soldiers who survived would spend almost three years in a tiny corner of northeastern France and northwestern Belgium (Flanders), where many of their comrades still lie. And they would serve in many of the most horrific battles of that long, bloody conflict—Saint Eloi, the Somme, Arras, Vimy, Hill 70, Lens, Passchendaele, Amiens, Drocourt-Quéant, Canal du Nord, Cambrai, and Valenciennes.

This book tells the story of the 75th Battalion (later the Toronto Scottish Regiment) and the five thousand men who formed it—most from Toronto—from all walks of life. They included professionals, university graduates, white- and blue-collar workers, labourers, and the unemployed, some illiterate. They left a comfortable existence in the prosperous, strongly pro-British provincial capital for life in the trenches of France and Flanders. Tommy Church, mayor of Toronto from 1915 to 1921, sought to include his city's name in the unit's name because of the many city officials and local residents who served in it. Three years later Church accepted the 75th's now heavily emblazoned colours for safekeeping at City Hall from Lieutenant-Colonel Colin Harbottle, who returned with his bloodied but successful survivors. The author pulls no punches in recounting their labours, triumphs, and travails.

Timothy J. Stewart undertook exhaustive research for this first-ever history of the 75th, drawing from archival sources (focusing on critical decisions by Brigadier Victor Oldum, General Officer Commanding 11th Brigade), diaries, letters, newspaper accounts, and interviews.