---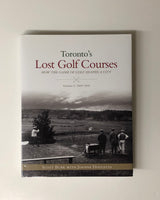 Toronto's Lost Golf Courses: How The Game Of Golf Shaped A City,
Volume 1: 1869-1919 by Scott Burke & Joanne Doucette


4to. pp. viii, 408. many illustrations & maps. index. hardcover cloth. dw. [Toronto]: Barlow Books, [2019].                                  

First Edition.
New & out-of-print.
ISBN-10: 1988025397 / ISBN-13: 9781988025391
_______________________________________________________________________________________________
This richly illustrated coffee-table book is the perfect gift for the Toronto golfer and history buff. It's a pictorial history of golf in Toronto, with over 150 maps, illustrations, and pictures of both the long-lost golf clubs and the prominent people who were the pioneers of golf in the region. It describes the nearly 30 golf courses established in the Toronto area from 1869 to 1919 that literally shaped the city. In fact, if you live in Toronto today, there is a very real possibility that your home is on a former golf course - or is a par five away from one.

Golf was introduced to Toronto in the 19th century by the Scots. In Toronto's Lost Golf Courses, the author tells, in fascinating detail, the story of the golf craze of that time. In those early days, golfers would tell caddies to head out 125 yards or so and place the stake in the ground.

Some of the golf courses, like Toronto Hunt, the Toronto Golf Club, and Lambton Golf and Country Club, are still thriving, but most of the courses were paved over by residential development. All that remains are the stories, pictures, and maps in places like High Park, University of Toronto, Yorkville, and Upper Canada College. These records tell a lot about the history of Toronto and the golfers who developed the city. With an extensive index of golfers, this book is a Who's Who of Toronto golf in the late 19th and early 20th centuries.