---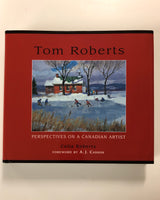 Tom Roberts Tom Roberts: Perspectives on a Canadian Artist By Celia Roberts
Foreword by A.J. Casson


oblong, 8vo. pp. 238. profusely illustrated in colour & b/w. bibliography. index. bds. dw. [Erin, Ontario]: The Boston Mills Press, [2000].


New.
ISBN-10: 1550463365/ ISBN-13: 9781550463361

Tom Roberts chose to be a painter at the age of eight and never strayed from his path. He dedicated his life to producing works that captured the natural beauty and the history of Canada. "I want people to feel this wonderful country," Roberts once said. Today, is work lends an important sense of peace and stability to our fast-paced and constantly changing world.

This insightful and heartfelt biography by his daughter Celia chronicles the life of a valuable Canadian artist from his childhood in Toronto's Parkdale district, through his years of formal education and his even more vital years of studying in the outdoors. We experience his life as an artist during the Great Depression, and his years as husband and father, travelling coast to coast with his family in tow, setting up his easel in all seasons to capture everything he could of his beloved country.