---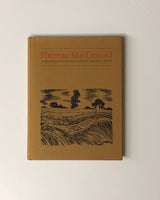 Thoreau MacDonald: A Catalogue of Design and Illustration by Margaret E. Edison


4to. pp. ix, 190. profusely illustrated in b/w. bibliography. index. hardcover cloth. dw. (fine condition). [Toronto & Buffalo]: University of Toronto Press, [1973].


ISBN-10: 0802019595 / ISBN-13: 9780802019592

______________________________________________________________________________________________


This book is a record of the work of Thoreau MacDonald as a designer and illustrator. The basis of the catalogue is the collection built up by Margaret E. Edison since the early thirties, when TM began to be a leader in Canadian book designing: it is the first bibliographic catalogue of the work of a Canadian artist.
Thoreau MacDonald, born near Toronto in 1901, is the only son of J.E.H. MacDonald, a member of the Group of Seven. His childhood was spent in the woods and fields near High Park and his chapter of recollections, written especially for this book, tells of his delight in nature. For the past sixty years he has lived in Thornhill and his love and respect for the rural way of life is referred to by Barker Fairley in an introductory letter, also written for this book. As Fairley says, '... when I say your name or think of you, I see old gates and fences and farmlands and early cottages, farm implements, domestic animals, wild animals, birds flying, not many people ...' These are the themes of Thoreau MacDonald's illustrative work and his skill in black and white -- pen drawing mainly with an occasional linocut -- is immense.
An evaluation of his work by E.R. Hunter, art critic and author of a book on Thoreau MacDonald, is contained in the text of this book.
It will appeal not only to librarians, book collectors and dealers, lovers of Canadiana, but also to that less easily defined group of people who have a real nostalgia for the old ways of rural life.