---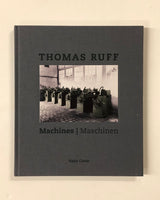 Thomas Ruff: Machines / Maschinen
Edited by Caroline Flosdorff and Veit Gornner
Text by Caroline Flosdorff, Veit Gornner, Michael Stoeber



4to. pp. 103. English & German text. profusely illustrated with 61 colour illus. cloth. [Ostfildern]: Hatje Cantz, 2003.


New.


ISBN-10: 3775714235/ ISBN-13: 9783775714235

_______________________________________________________________________________________________

Arguably the most versatile artist of the Dusseldorf School, Thomas Ruff reinvents himself as an artist, both conceptually and aesthetically, with each new body of work. From architectural photography to portraits, from aerial views and cityscapes to colour abstractions and internet-derived nudes, Ruff constantly challenges the given meanings of photography. This book presents for the first time his most recent body of work, the so-called "Machine" pictures. In this series, Ruff borrows from the picture archive of a Dsseldorf machine factory, where he discovered glass negatives that had been used for commercial brochures. The artist scanned the negatives and then proceeded to digitally alter their colour and size. By freeing these images from their original context and re-processing them, Ruff grants them a pictorial autonomy. Thus, with the
Machines
series, Ruff not only investigates the history of photography, but also ponders such fundamental questions as how something can appear in a picture, how we perceive pictures, and what role our assumptions about media play.