---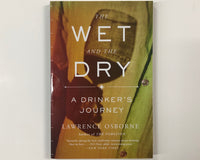 The Wet And The Dry: A Drinker's Journey by Lawrence Osborne
8vo. pp. 226. wrs. New York: Broadway Books, [2013].

New.
ISBN-10:
0770436900
/ ISBN-13: 9780770436902
Drinking alcohol: a beloved tradition, a dangerous addiction, even "a sickness of the soul" (as once described by a group of young Muslim men in Bali). In his wide-ranging travels, Lawrence Osborne—a veritable connoisseur himself—has witnessed opposing views of alcohol across cultures worldwide, compelling him to wonder: is drinking alcohol a sign of civilization and sanity, or the very reverse? Where do societies fall on the spectrum between indulgence and restraint? 
  
An immersing, controversial, and often irreverent travel narrative, The Wet and the Dry offers provocative, sometimes unsettling insights into the deeply embedded conflicts between East and West, and the surprising influence of drinking on the contemporary world today.