---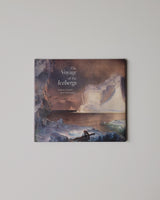 The Voyage of the Icebergs: Frederic Church's Arctic Masterpiece by Eleanor Jones Harvey & Gerald L. Carr
oblong 4to. pp. 112. colour & b/w illustrations. hardcover. dw. Dallas: Dallas Museum of Art & Yale University Press, 2002
New in publisher's shrink wrap.
ISBN-10: 0300095368  / ISBN-13: 9780300095364
____________________________________________________________________________________________
Twelve days after the onset of the American Civil War in April of 1861, Frederic Edwin Church, the most successful American landscape painter of his day, debuted his latest "Great Picture"-a painting titled The North. Despite favorable reviews, the painting failed to find a buyer. Faced with this unexpected setback, Church added a broken mast to the foreground and changed the work's title to The Icebergs. He then shipped the painting to London, where it was finally sold to an English railroad magnate and subsequently disappeared from view for 116 years.

This beautiful book tells the fascinating story of The Icebergs and provides a detailed look at the cycle of fame, neglect, and resuscitation of both this masterwork and Church's career. In 1979, The Icebergs sold at auction for $2.5 million, at the time the highest amount ever paid for an American painting. The sale coincided with an upswing in the popularity and acclaim accorded to American landscape painting, catalyzing the market for American art and contributing to a revival in the prestige of Church and the Hudson River School. Drawing on extensive interviews with many of the people involved with the painting's rediscovery, sale, and eventual donation to the Dallas Museum of Art, the author considers the way marketing has defined The Icebergs.