---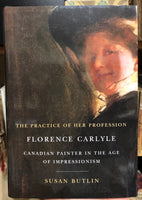 8vo. pp. xiii, 309. b&w text illustrations & 12 double-sided colour plates. bibliography. index. bds. dw. Kingston & Montreal: McGill-Queen's University Press, [2009].
Florence Carlyle (1864-1923), born in Galt, Ontario, emerged as one of the most successful Canadian artists of her time. Trained in Paris, she lived and worked in New York City and in Canada, cultivating a career as a popular portrait and genre painter. Known for her masterful use of colour, Carlyle's paintings are nuanced and perceptive portrayals of feminine spaces, the female figure, and women's domestic work.

In The Practice of Her Profession, Susan Butlin draws on unpublished letters and family memoirs to recount Carlyle's personal and professional life. She explores Carlyle's artistic influences, her relationships with artist colleagues and encounters with the cultural worlds of Paris, New York, and early twentieth-century Canada, and provides a detailed examination of Carlyle's paintings. Butlin's vivid description of the artistic life of women of this era, from access to art training to the important role of women's art societies, introduces readers to Carlyle's many accomplished contemporaries - Helen McNicoll, Mary Reid, Laura Muntz, Sarah Holden, Sydney Tully, Elizabeth McGillivray Knowles, and others.

Florence Carlyle's life - that of an independent risk-taker who actively constructed her own professional artistic practice and lived in a self-determined way that was often at odds with social convention - reveals much about the possibilities and limitations for a woman artist in the nouveau siècle. The Practice of Her Profession is important reading for all those interested in Canadian art and cultural history, and the history of women artists in Canada.