---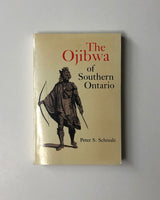 The Ojibwa of Southern Ontario by Peter S. Schmalz
8vo. pp. 334. 34 black & white plates. bibliography. index. paperback wrs. (fine condition with some toning to covers). Toronto: University of Toronto Press, [1991].
ISBN-10: 0802067786 / ISBN-13: 9780802067784
________________________________________________________________________________________________
The Ojibwa have lived in Ontario longer than any other ethnic group. Until now, however, their history has never been fully recorded. Peter Schmalz offers a sweeping account of the Ojibwa in which he corrects many long-standing historical errors and fills in numerous gaps in their story. His narrative is based as much on Ojibwa oral tradition as on the usual historical sources.
Beginning with life as it was before the arrival of Europeans in North America, Schmalz describes the peaceful commercial trade of the Ojibwa hunters and fishers with the Iroquois. Later, when the Five Nations Iroquois attacked various groups in southern Ontario in the mid-seventeenth century, the Ojibwa were the only Indians to defeat them, thereby disproving the myth of Iroquois invincibility.In the eighteenth century the Ojibwa entered their golden age, enjoying the benefits of close alliance with both the French and the English. But with those close ties came an increasing dependence on European guns, tools, and liquor at the expense of the older way of life. The English defeat of the French in 1759 changed the nature of Ojibwa society, as did the Beaver War (better known as the Pontiac Uprising) they fought against the English a few years later. In his account of that war, Schmalz offers a new assessment of the role of Pontiac and the Toronto chief Wabbicommicot.
The fifty years following the Beaver War brought bloodshed and suffering at the hands of the English and United Empire Loyalists. The reserve system and the establishment of special schools, intended to destroy the Indian culture and assimilate the Ojibwa into mainstream society, failed to meet those objectives.
The twentieth century has seen something of an Ojibwa renaissance. Schmalz shows how Ojibwa participation in two world wars led to a desire to change conditions at home. Today the Ojibwa are gaining some control over their children's education, their reserves, and their culture.