---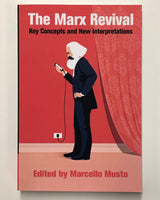 The Marx Revival: Key Concepts and New Interpretations Edited By Marcello Musto


8vo. pp. xix, 408. index. wrs. Cambridge: Cambridge University Press, [2020].
New.
ISBN-10: 1107542162 / ISBN-13: 9781107542167
The planet is in deep trouble because of capitalism, and Karl Marx, freed from the chains of "real socialism", is being rediscovered all around the world as the thinker who provided us with its most insightful critique. The Marx Revival is the best, most complete and most modern guide to Marx's ideas that has appeared since the fall of the Berlin Wall. Written by highly reputed international experts, in a clear form accessible to a wider public, it brings together the liveliest and most thought-provoking contemporary interpretations of Marx's work. It presents what he actually wrote in respect of 22 key concepts, the areas that require updating as a result of changes since the late-nineteenth century, and the reasons why it is still of such relevance in today's world. The result is a collection that will prove indispensable both for specialists and for a new generation approaching Marx's work for the first time.