---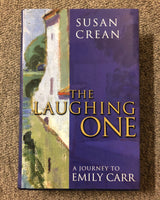 8vo. pp. xiii, 496. 1 map & b/w illus. biblio. index. bds. dw. [Toronto]: Harper Flamingo, [2001].
New.

Much has been written about Emily Carr, seminal Canadian artist; eccentric and cantankerous woman; and "appropriator" of native culture, but few have explored how and why Carr has become a national touchstone, an icon who has helped us define who we are as Canadians. Writer, art historian and cultural critic Susan Crean does just that in The Laughing One, a fresh and unique investigation of Emily Carr and her influence. Crean uses a multi-layered structure that combines historical research, including never-before-published material; fictionalized accounts of key events in Carr's life; and the author's own forays into Carr territory, reflecting on the startling connections between Carr's nineteenth-century sensibility and our present concerns with the environment; assimilation and destruction of native culture; spirituality; and identity.

Crean probes our fascination with Carr: Why was it that a 1913 showing of Carr's work went virtually ignored, while in 1927 — with a minimal change in style — her work was the star of a National Gallery exhibition, eclipsing even the Group of Seven? What was the meaning of the traumatic break with her father and her rejection of marriage? Why and how did a fledgling Canadian identity embrace her vibrant, often forbidding, landscapes?

Much more than a biography, The Laughing One will be an important new contribution to the world of Canadian art and cultural history and a thoroughly entertaining and insightful read.