---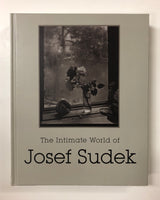 The Intimate World of Josef Sudek by Ann Thomas, Vladimir Birgus & Ian Jeffrey
Contributions by Peter Bower, Petr Helbich, Vojtech Lahoda, Jan Mlcoch, Jan Strimpl & Christophe Vischi

4to. pp. 272. profusely illustrated. bibliography. index. bds.
[Milan]: 5 Continents Editions in association with the National Gallery of Canada, [2016].
Published in conjunction with an exhibition organized by the Canadian Photography Institute of the National Gallery of Canada in collaboration with the Jeu de Paume for the presentation in Paris.
New.
ISBN-13: 9780888849403 / 9788874397358
_______________________________________________________________________________________________
The Intimate World of Josef Sudek examines how Sudek's photographs reflect his relationship to the world around him, from intimate explorations of his studio interior and views through his window, to his expansive wandering through the streets of Prague and its peripheries, as, well as excursions into the surrounding countryside. Sudek's endless fascination with light and its absence led him to create some of the 20th century's most haunting images of nature, monuments, city streets and objects. Featuring five essays, warm reminiscences by two friends and former assistants, and two technical notes, as well as more than 120 vibrant plates and dozens of illustrations, this catalogue offers a compelling view of Sudek's photographs and the rich artistic environment of Prague in the decades before and after the Second World War.