---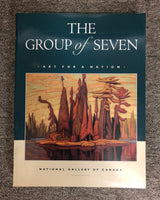 4to. pp. 374. profusely illustrated in colour & b/w. bibliography. index. wrs.
ISBN: 0-88884-645-2 / 9780888846457
New & out-of-print.
Published in conjunction with the exhibition The Group of Seven: Art for a Nation, organized and circulated by the National Gallery of Canada.
It is hard to image a time when the art of the Group of Seven was new and even shocking. But their paintings of boulder-strewn riverbeds, brooding mountain vistas, and pine trees bent by the wind were once described by critics as "travesties, abortions, sensuous and hideous malformations." Now, three-quarters of a century later, the Group's paintings have become a part of the Canadian identity.
In this landmark reappraisal of their work, written in conjunction with the first major exhibition of their paintings in twenty-five years, Charles C. Hill reconstructs the period in which the Group of Seven was formed. He describes their conditions in which they struggled, the opposition against which they  fought, the alliances they forged, and the battle for public acceptance they finally won.
The Group of Seven: Art for a Nation reproduces all 129 paintings that make up the exhibition - more than half of them in full colour - plus approximately eighty black-and-white figures showing the world in which the Group lived and worked. Together with complete catalogue entries and extensive supporting reference material, this is by far the most significant study of the Group of Seven to have bee published in recent years.