---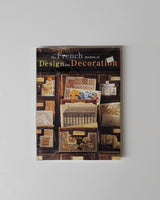 The French Archive of Design and Decoration by Stafford Cliff
folio. pp. 255. profusely illustrated. hardcover boards. dw. New York: Harry N. Abrams, 1999.
New in publisher's shrink wrap.
ISBN-10: 0810933381 / ISBN-13: 9780810933385
_______________________________________________________________________________________________
From the time of Louis XIV onwards, successive French political regimes made it their business to encourage and support the luxury crafts and industries of the country. The health of the applied arts was a sign of economic and social well-being: even the governments of the various Republics saw it as a reflection of their own importance.
Beautifully reprinted in colour and black-and-white, here are original sketches and printed patterns representing three centuries of ideas for furniture, textiles, wallpapers, glass, ceramics and whole interiors - a French archive of design and decoration demonstrating the national fascination with elegant living. There is a wealth of material to draw on: from as early as 1685 the furniture designs commissioned for the royal collections at Versailles from Andre Charles Boulle were published as engravings; likewise the designs of the Rococo masters Meissonnier and Pineau were disseminated throughout France, while Napoleon's architects Percier and Fontaine themselves published many designs. Later on, the great international exhibitions held in Paris defined the styles of their period: Art Nouveau, Art Deco and International Modernism. The continuing vigour of the studio and small workshop traditions was seen in the work of such individuals and firms as Galle, Lalique, Guimard, and subsequently Ruhlmann, Sue et Mare, Baccarat and Christofle.
Including a comprehensive resource directory making this a practical as well as a beautiful book, manufacturers, designers, decorators, retailers and craftsmen alike will find this treasury of French design heritage a unique source of inspiration.