---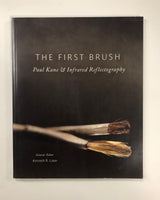 The First Brush: Paul Kane & Infrared Reflectography Edited by Kenneth R. Lister
with essays by Ian Longo, George Bevan & Heidi Sobol



4to. pp. 104. profusely illustrated in colour & b/w. bibliography. index. wrs. (slight crease to upper right corner). [Toronto]: The Royal Ontario Museum, [2014].
Catalogue of an exhibition held at the Royal Ontario Museum, April 26, 2014 to April, 2015.

New.
ISBN-10:
0888544987
/ ISBN-13: 9780888544988

_________________________________________________________________________________________________

Canadian artist Paul Kane (1810-1871) lived in a century when foreign peoples were expanding across North America. Native cultures were encouraged to adopt different world views and alter the way they made a living. Kane - aware that Aboriginal cultures were changing - set out to produce a visual record of Native peoples and the land they inhabited before such a record was no longer possible.
Kane's field sketches in graphite, watercolour, and oil represent the observed record and allow us to compare what he recorded first-hand to his finished studio oil paintings. Now, with "Near Infrared Reflectography" - a technique that penetrates the surface paint to reveal underdrawings and earlier design iterations - we can see Kane's thinking while struggling with his studio compositions. Did he wrestle with a desire to present in grand fashion, but then resist the temptation? Was there a moment in the studio when a change from faithfulness compromised his historical record?
The First Brush: Paul Kane and Infrared Reflectography is a unique insight into Paul Kane's artistic processes between the years 1849 and 1856 as he painted in his Toronto studio. It explores the issue of truthfulness in Kane's art, his struggle for composition, and the identity of original paintings versus subsequent versions. The authors explore Kane's objectives in the context of mid-19th century realities, his painting technique, his response to external influences, and his steadfastness to a realized vision.