---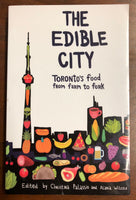 The Edible City: Toronto's Food from Farm to Fork Edited by Christina Palassio and Alana Wilcox

8vo. pp. 309. maps & b/w illus. wrs. Toronto: Coach House Books, [2009].
New.
ISBN-13: 978-1552452196
___________________________________________________________________________________________

If a city is its people, and its people are what they eat, then shouldn't food play a larger role in our dialogue about how and where we live? The food of a metropolis is essential to its character. Native plants, proximity to farmland, the locations of supermarkets, immigration, the role chefs can and should play in society – how a city nourishes itself makes a statement about the kind of city it is.
With a cornucopia of essays on comestibles, The Edible City considers how one city eats. It includes dishes on peaches and poverty, on processing plants and public gardens, on rats and bees and bad restaurant service, on schnitzel and school lunches. There are incisive studies of food-security policy, of feeding the needy and of waste, and a happy tale about a hardy fig tree.
Together they form a saucy picture of how Toronto – and, by extension, every city – sustains itself, from growing basilon balconies to four-star restaurants. Dig into The Edible City and get the whole story, from field to fork.
'The common theme here is connecting people through food. In the final essay, Wayne Roberts of the Toronto Food Policy Council suggests that this connection is really about empowerment, and empowering readers is exactly what The Edible City is sure to do. '
– Quill and Quire
'Part historical recollection, part rallying cry and part love letter to all things gustatory in our fair city, this compilation has an angle for every taste. '
– Taste T. O.