---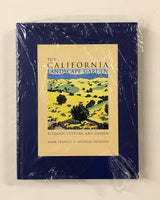 The California Landscape Garden: Ecology, Culture, and Design by Mark Francis and Andreas Reimann
With original illustrations by Yan Nascimbene

4to. pp. 254. illustrated. index. hardcover cloth. dw. Berkeley: University of California Press, 1999.

New in partially opened publisher's shrink wrap.


ISBN-10: 0520214501 / ISBN-13: 9780520241507

_____________________________________________________________________________________________

The beauty, resources, and natural processes of the California landscape are brought to the home garden in Mark Francis and Andreas Reimann's fine testament to ecological gardening. The authors connect history, culture, region, and design to help us understand how California and its human population have evolved historically and how individuals today can make a difference in the state's future in their own backyards. The authors' goal is to bring the history of the California garden up to date with the ecological and cultural concerns of our time.

Francis and Reimann use California's natural beauty and habitat as a starting point for inspiring Californians to see their gardens as extensions of the surrounding landscape. They provide essential information on native plants and wildlife, ecology and bioregionalism, landscape history and design concepts, as well as numerous examples showing how to integrate environmental principles in one's garden.

Landscape meaning and regional thinking are an important part of an ecosystem approach to home gardening, say the authors. By observing nearby native or naturalized environments, including vacant lots and abandoned property, one learns a good deal about local plants, wildlife, and other elements that can be incorporated into an ecologically sensitive garden.

Yan Nascimbene's exquisite color illustrations perfectly capture the authors' sensual vision of an environment different from gardens commonly featured in gardening books and magazines. Photographs illustrate the designs of many of the best landscape architects working in the tradition of the California landscape garden, including Ron Lutsko, Topher Delaney, Owen Dell, Ann Christoph, and Rick Fisher. This is a book for anyone seeking a garden philosophy that is environmentally sensitive, and even experienced home gardeners, landscape professionals, and horticulturists will find new and useful material here.