---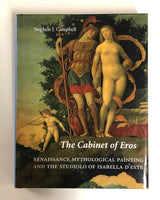 The Cabinet of Eros: Renaissance Mythological Painting and the Studiolo of Isabella D'Este by Stephen J. Campbell


4to. pp. viii, 402. profusely illustrated in colour & b/w. bibliography. index. bds. dw. New Haven & London: Yale University Press, [2004].

New.

ISBN-10: 0300117531 / ISBN-13: 9780300117530
_______________________________________________________________________________________________

The Renaissance studiolo was a space devoted in theory to private reading and contemplation, but at the Italian courts of the fifteenth century, it had become a space of luxury, as much devoted to displaying the taste and culture of its occupant as to studious withdrawal. The most famous studiolo of all was that of Isabella d'Este, marchioness of Mantua (1474–1539). A chief component of its decoration was a series of seven paintings by some of the most noteworthy artists of the time, including Andrea Mantegna, Pietro Perugino, Lorenzo Costa, and Correggio, which encapsulated the principles of an emerging Renaissance artistic genre—the mythological image. Using these paintings as an exemplary case, and drawing on other important examples made by Giorgione in Venice and by Titian and Michelangelo for the Duke of Ferrara, Stephen Campbell explores the function of the mythological image within a Renaissance culture of readers and collectors.
Painted fables and allegories addressed some of the dilemmas and controversies arising from the reading of profane literature and the accumulation of works of pagan art. They prompted the viewer to reflect on the nature of reading itself, on the status of pagan or profane literature in a modern Christian society, and on the value of both art and literature in the cultivation of the self. Campbell shows that the paintings presented their viewers with the opportunity to engage in a type of intellectual therapy by therapy, by depicting or even activating emotional states ordinarily held at bay, and by encouraging beholders to engage in imaginative acts of reading. Above all, the viewer was drawn towards an understanding of unsettling forces that undermined the maintenance of a self - the perturbations brought about by living in a violent and unsettled world and those that menaced the self from within: sexual passion, anxiety, despondency. The accommodation of Eros is the central concern of these mythological works, ambivalently viewed as both the source of individual subjectivity and its refinement and equally of its alienating displacements. Showing the continuity of these themes with works of contemporary literature produced in the circle of the same readers and collectors, Campbell argues that the nature of mythology in Renaissance culture needs to be rethought, and questions the validity of hermetic, Neoplatonic and didactic paradigms for its understanding.