---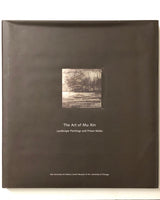 The Art of Mu Xin: Landscape Paintings and Prison Notes
Introduction by Alexandra Munroe
Essays by Richard M. Barnhart, Jonathan Hay and Wu Hung

folio. pp. 150. profusely illustrated. bibliography. cloth. dw. (some minor shelf wear to extremities, two short tears to dust wrapper cut-out, otherwise as new). New Haven: Yale University Art Gallery in association with the David and Alfred Smart Museum of Art, University of Chicago, [2001].

ISBN-10: 0300090757 / ISBN-13: 9780300090758

____________________________________________________________________________________________
Mu Xin (b. 1927) is one of the leading expatriate artist-intellectuals of our time. Now living in New York City, he is known for his complex writings and paintings. Clearly a formidable figure in the cultural and intellectual history of Chinese modernism, Mu Xin is admired for his unique synthesis of Chinese and Western aesthetic sensibilities. This beautifully illustrated catalogue focuses on a group of thirty-three landscape paintings that Mu Xin painted in 1978–79, in the immediate aftermath of the Great Cultural Revolution. Many of these works have never been exhibited or published in the West. In addition, the book features Mu Xin's Prison Notes, some sixty-six calligraphic sheets that were written when the artist was in solitary confinement in China in 1972.