---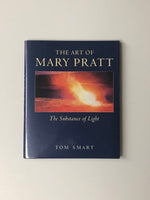 The Art of Mary Pratt: The Substance of Light by Tom Smart
4to. pp. 167. profusely illustrated. bibliography. index. hardcover boards. dw. [Fredericton]: Goose Lane Editions and The Beaverbrook Art Gallery, [1995].
New.
ISBN-10: 086492173X / ISBN-13: 9780864921734
_________________________________________________________________________________________________
Mary Pratt told a Maclean's reporter that only concrete, real images are truly worth painting. Perhaps this is one reason why she has become an icon of mainstream contemporary art, with paintings reproduced in magazines such as Saturday Night, Chatelaine, Arts Atlantic and Canadian Art, and featured on billboards, in cookbooks, and on the covers of books and magazines. The Art of Mary Pratt: The Substance of Light is stunningly beautiful, informative, and a joy to read. Tom Smart relates Pratt's work to her life, tracing the history of her painting from her Fredericton childhood through her training at Mount Allison University, her marriage to Christopher Pratt, and the setbacks and breakthroughs of her career. Pratt cooperated enthusiastically in this venture, even allowing Smart to quote from her journals. The Art of Mary Pratt contains over 70 colour reproductions. These cover the full range of Pratt's works: from early impressionistic pieces to the eviscerated chickens and fish of the 1970s; and from figure studies of Donna, to sensuous paintings of fruit, to her latest watercolour and pastel interpretations of fire, blown snow, and waves crashing over a ship's deck.