---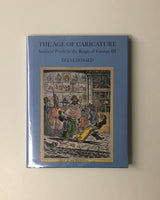 The Age Of Caricature Satirical Prints In The Reign Of George III by Diana Donald
4to. pp. viii, 248. 210 illustrations, some colour. index. hardcover boards. dw. (fine condition). New Haven & London: Published for the Paul Mellon Centre for Studies in British Art by Yale University Press, 1996.

First Edition.
ISBN-10: 0300066058 / ISBN-13:9780300066050
_______________________________________________________________________________________________
The late eighteenth century in England was the first great age of cartooning, and English caricature prints of the period have long been enjoyed for their humor and vitality. Now Diana Donald presents the first major study of these caricatures, which challenges many assumptions about them. She shows that they were a widely disseminated form of political expression and propaganda as subtle and eloquent as the written word.

Donald analyzes the meanings of the prints, applying current perspectives on the eighteenth century about the changing roles of women and constructions of gender, the alleged rise of a consumer society, the growth of political awareness outside aristocratic circles, and the problems of defining "class" values in the later Georgian era. She discusses, for example, the social position of the Georgian satirist within the hierarchy of high and low art production; the relation between the shifting styles of political prints and the antagonisms of different political cultures; caricatures of fashion as expressions of ambivalent attitudes to luxury and "high society"; treatment of the crowd in the prints and the light this sheds on the myth of the freeborn Englishman; and what caricatures reveal about British reactions to the French Revolution in the 1790s. Donald concludes by describing the demise of the Georgian satirical print in the early nineteenth century, which she attributes in part to the new and urgent political purposes of radicals in the post-Napoleonic era. Illustrated with works by Gillray, Rowlandson, and other artists, many of which have never been published before, the book will be an enlightening and enjoyable reference for scholars and the general reader.