---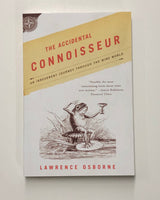 The Accidental Connoisseur: An Irreverent Journey Through the Wine World
by Lawrence Osborne
8vo. pp. 262. wrs. New York: North Point Press, [2005].

New.
ISBN-10: 0865477124 / ISBN-13: 9780865477124
What is taste? Is it individual or imposed on us from the outside? Why are so many of us so intimidated when presented with the wine list at a restaurant? In The Accidental Connoisseur, journalist Lawrence Osborne takes off on a personal voyage through a little-known world in pursuit of some answers. Weaving together a fantastic cast of eccentrics and obsessives, industry magnates and small farmers, the author explores the way technological change, opinionated critics, consumer trends, wheelers and dealers, trade wars, and mass market tastes have made the elixir we drink today entirely different from the wine drunk by our grandparents.
In his search for wine that is a true expression of the place that produced it, Osborne takes the reader from the high-tech present to the primitive past. From a lavish lunch with wine tsar Robert Mondavi to the cellars of Marquis Piero Antinori in Florence, from the tasting rooms of Chateau Lafite to the humble vineyards of northern Lazio, Osborne winds his way through Renaissance palaces, $27 million wineries, tin shacks and garages, opulent restaurants, world-famous chais and vineyards, renowned villages and obscure landscapes, as well as the great cities which are the temples of wine consumption: New York, San Francisco, Paris, Florence, and Rome. On the way, we will be shown the vast tapestry of this much-desired, little-understood drink: who produces it and why, who consumes it, who critiques it? Enchanting, delightful, entertaining, and, above all, down to earth, this is a wine book like no other