---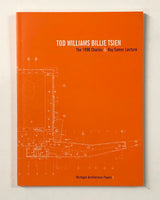 The 1998 Charles & Ray Eames Lecture (Michigan Architecture Papers 5) By Tod Williams & Billie Tsien

8vo. pp. 78. illustrated. wrs. Ann Arbor: The University of Michigan College of Architecture + Urban Planning, 1998.


New.


ISBN-10: 1891197053 / ISBN-13: 9781891197055
_______________________________________________________________________________________________
Once an integral part of the network of the industrial railroads, the 'life-lines' of Detroit's economy, the Beltline is a historically evolved industrial corridor. Over time, the three-mile long and three-block-wide stretch has changed in character to a vivid, highly diverse territory.
Nine students of the Master of Urban Design Program at the University of Michigan's Taubman College of Architecture and Urban Planning took on the challenge to explore, investigate and develop proposals for the Beltline. These proposals speculate on the agency of design within a highly defined context and draw from the relationship between history, current community initiatives and organizational involvement in the Beltline.
The individual and the collective initiatives of the studio attempt to take advantage of its typological diversity and location as the new City Edge. Taking this into account, the studio aims to create new systems that engage areas beyond the 'Edge' to produce a cohesive urban development scenario.
The goal is to demonstrate that Detroit can be a city for all.