---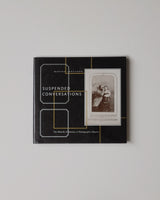 Suspended Conversations: The Afterlife of Memory in Photographic Albums by Martha Langford
8vo. pp. x, 241. b/w illustrations. bibliography. index. hardcover. dw. (near fine - small nick to back cover of dust wrapper). Montreal & Kingston: McGill-Queen's University Press, [2001].
out-of-print in hardcover.
ISBN-10: 0773521747 / ISBN-13: 9780773521742
______________________________________________________________________________________________
Albums are treasured by families, collected as lively illustrations of the past by museums of social history, and examined by scholars in sociology, folklore, art history, and cultural studies for what they can reveal about attitudes and sensibilities. Most agree that albums are stories that come to life in the retelling - but when no one is left to tell the tale, the intrigue of the album becomes a frustrating puzzle, a suspended conversation. Langford argues that oral consciousness provides the missing key. By correlating photography and orality she shows how albums were designed to work as performances and how we can unlock their mysteries. "Suspended Conversations" brings to light a rich collection of photographic travelogues, memoirs, thematic collections, and family sagas compiled between 1860 and 1960 and held by the McCord Museum of Canadian History. Martha Langford not only provides a fascinating glimpse of a previous century's preoccupations and mores but brings photography into the great conversation about how we remember and how we send our stories into the future.