---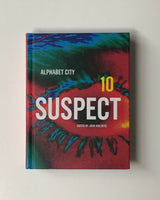 Suspect: Alphabet City Magazine 10 Edited by John Knechtel
16mo. pp. 340. profusely illustrated. hardcover book. Cambridge: MIT Press, [2006].
New.
ISBN-10: 0262112906 / ISBN-13: 9780262112901

______________________________________________________________________________________________


Essays, graphic novels, films, and commentary examine the figure of the suspect and the politics of suspicion in a post-9/11 world.
What is the condition of the suspect in a post-9/11 world? Do perpetual detention, ubiquitous surveillance cameras, and the legal apparatus of the USA Patriot Act target suspects accurately or generate suspicion indiscriminately? Suspect, the latest in a series from Alphabet City and the first in its new format of topical book-length magazines, gathers hard evidence about the fate of the suspect in a culture of suspicion with contributions from writers, artists, and filmmakers. Their testimony takes a multiplicity of forms and formats. Among them: A 24-page color comic by graphic novelist Joey Dubuc asks the reader to make narrative choices in a web of surveillance, suspicion, and fear. Harper's contributor Mark Kingwell observes that while suspicion tries to isolate the suspect, in fact we are all the suspect. Slavoj Zizek reflects on the new cultural status of the suspect after Abu Ghraib. Philosopher George Bragues argues that even as the United Nations looks for ways to discipline "suspect nations," it simply cannot succeed under current international conditions. Alphabet City editor John Knechtel interviews Naomi Klein, author of No Logo, about the legal and political strategies of the Bush administration. Sylwia Chrostowska describes what happens, in the the 1970 Italian film Investigation of a Citizen Above Suspicion, when a corrupt official investigates himself. Screenwriter Timothy Stock and illustrator Warren Heise create a documentary in comic form about Critical Ensemble artist Steve Kurtz, charged under the bioterrorism provisions of the Patriot Act. Novelist Camilla Gibb portrays, in "Things Collapse," the terrifying effects of a "separating sickness" of unknown origin, which perhaps exists only in the fears of the population it strikes. And novelist Diana Fitzgerald Bryden follows her character Rafa Ahmed, a PFLP hijacker from the 1970s, as, many years later, she is to appear at a peace conference. Filmmaker Patricia Rozema, director of Mansfield Park and other films, contributes a 16-page film-in-a-book, "Suspect." Suspect is a non-partisan handbook on the mechanisms and machinations of suspicion for the twenty-first century national security state.