---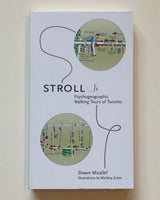 Stroll: Psychogeographic Walking Tours of Toronto by Shawn Micallef
Illustrations by Marlena Zuber

8vo. pp. 310. fold-out map & map illustrations. black & white illustrations. index. wrs. Toronto: Coach House Press, [2010].
First Edition, Sixth Printing.
New.
ISBN: 9781552452264
Winner: 2011 Toronto Heritage Award of Merit
What is the 'Toronto look'? Glass skyscrapers rise beside Victorian homes, and Brutalist apartment buildings often mark the edge of leafy ravines, creating a city of contrasts whose architectural look can only be defined by telling the story of how it came together and how it works, today, as an imperfect machine.
Shawn Micallef has been examining Toronto's streetscapes for a decade. His psychogeographic reportages, some of which have been featured in EYE WEEKLY and Spacing magazine, situate Toronto's buildings and streets in living, breathing detail, and tell us about the people who use them; the ways, intended or otherwise, that they are being used; and how they are evolving.
Stroll celebrates Toronto's details - some subtle, others grand - at the speed of walking and, in so doing, helps us to better get to know its many neighbourhoods, taking us from well-known spots like the CN Tower and Pearson Airport to the overlooked corners of Scarborough and all the way to the end of the Leslie Street Spit in Lake Ontario.
Stroll features thirty-two walks, a flaneur manifesto, a foreword by architecture critic John Bentley Mays, dozens of hand-drawn maps by Marlena Zuber and a full-colour fold-out orientation map of Toronto.