---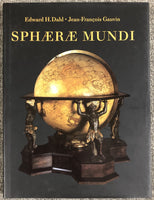 Sphaerae Mundi Early Globes at the Stewart Museum
By Edward H. Dahl & Jean-Francois Gauvin


4to. pp. 203, [1]. many illus. (mostly colour). biblio. index. bds. dw. [Montreal]: McGill-Queen's University Press, [2000].
ISBN: 0773521666 / 9780773521667
New.
Since the early seventeenth century, celestial and terrestrial globes have been symbols of learning, prestige, and for a time, even power. Now sought after by collectors, these rare artifacts once commonly held places of honour in great libraries, the manors of the wealthy and powerful, and the offices of rulers and diplomats. Drawing on extensive collection of globes at the Stewart Museum, Edward Dahl and Jean-Francois Gauvin re-explore the world of early globes and globe making, as well as the lives of famous artisans, such as Blaeu, Coronelli, Delisle, and Robert de Vaugondy who created them.