---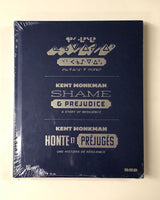 Shame And Prejudice: A Story Of Resilience: Kent Monkman
Texts by Lucy Lippard & Barbara Fischer


4to. pp. 272. English, French & Cree text. illustrated. bds. London: Black Dog Publishing, 2020.


New in Publisher's shrink wrap.


ISBN-10:
1912165260
/ ISBN-13: 9781912165261
______________________________________________________________________________________
Artist Kent Monkman's all-encompassing project, Shame and Prejudice: A Story of Resilience, takes viewers on a journey through Canada's history, starting in the present and going back before Canadian confederation. Throughout the book there are clever albeit controversial commentaries told by Monkman's genderfluid, time-travelling, supernatural alter-ego Miss Chief Eagle Testickle. Her narratives takes viewers through the history of New France and the fur trade, the nineteenth-century dispossession of Indigenous lands through Canadian colonial policies, the horrors of the residential school system, and modern Indigenous experiences in urban environments. Shame and Prejudice challenges predominant narratives of Canadian history and honours the resilience of Indigenous peoples. This book accompanies Monkman's largest solo exhibition to date, which is currently travelling across Canada at venues including the Art Museum at the University of Toronto, the Winnipeg Art Gallery, the Glenbow Museum in Calgary, and the Museum of Anthropology in Vancouver. The exhibition includes the artist's own paintings, drawings, and sculptural works, which form a dialogue with historical artefacts and artworks borrowed from museums and private collections across Canada.