---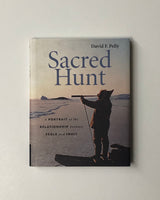 Sacred Hunt: A Portrait of the Relationship Between Seals and Inuit by David F. Pelly
Foreword by The Honorable Peter Irniq

12mo. pp. xv, 127. illustrated in colour & b/w. hardcover boards. dw. Vancouver & Toronto: Greystone Books, [2001].
New.
ISBN-10: 0295981644 / ISBN-13: 9780295981642
_______________________________________________________________________________________________
For centuries, Native people throughout the Arctic regions of the world have depended on seals for their survival. The Inuit and other indigenous people of the Arctic have used seal meat for food, sealskin for clothing, and oil from seal blubber as fuel for light and heat. For these reasons. the seal was the principal prey of the Inuit and the seal hunt lies at the core of traditional Inuit life. In
Sacred Hunt,
acclaimed writer David Pelly describes all facts of the seal hunt, beginning with the respect for seals underlying the hunt. This respect is reflected in the myths, legends, rituals, and traditions of the Inuit, which include stories about hunters transforming themselves into seals and the practice of offering a killed seal water to drink. Although to southern society this respect may appear to be at odds with hunting seals, to these Native people the two go hand in hand. The centrepiece of the book is a vivid yet sensitive description of the traditional seal hunt. In the depths of winter, Inuit hunters traveled from their igloos across the ice to search for seal breathing holes. A hunter might stand for hours by a breathing hole in 40 degree temperatures, harpoon in hand, waiting for a seal to appear at the hole to take a breath. In spring hunters stalked seals on the ice, using their knowledge of seal behaviour to imitate their sounds and movements, gradually creeping up on an unsuspecting seal. In Greenland, and other parts of the Arctic, Native people have hunted seals in kayaks for centuries. Today the Inuit in many communities continue to hunt seals for food. But they rarely use sealskin for clothing, and the international market for sealskin products collapsed in the 1980s as a result of the European Community ban on the import of sealskin. Having lost an important part of their economy, the Inuit are looking for ways to bring new sealskin products to the market. Pelly's lucid and informative text is augmented by exquisite photographs of Inuit sculpture, graphic prints, and tapestries showcasing the importance of Arctic seals in Inuit culture. In addition, archival photographs depict Inuit hunting seals, eating seal meat, and making clothing from sealskin. The result is a provocative and moving portrait of the traditional hunt and of the spiritual link between Inuit and Arctic seals.