---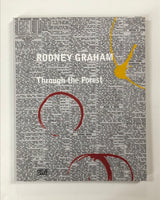 Rodney Graham: Through the Forest by Grant Arnold, Tacita Dean, Julian Heynen, Christa-Maria Lerm Hayes, Friedrich Meschede, Nikola Dietrich, Yves Gevaert & Sabrina van der Ley

4to. pp. 168. 120 colour illustrations, several fold-outs. wrs. [Ostfildern]: Hatje Cantz, [2010].


Published in conjunction with an exhibition.


New.


ISBN-10:
3775725776
/ ISBN-13: 9783775725774


__________________________________________________________________________________________
A representative selection of brilliant works by Rodney Graham, including his most recent paintings
This volume was designed in collaboration with Rodney Graham and Yves Gevaert in conjunction with an exhibition of around one hundred pieces produced by the Canadian artist between 1978 and 2009. Graham (*1949 in Vancouver) uses a variety of media in these works, including books, video, sculptures, machines, paintings, photographs, installations, prints, and music; takes up key concepts of art history; and plays with problems of perception.
His works require viewers to come up with art-historical or theoretical associations. Graham derives his source material from Sigmund Freud, Edgar Allan Poe, Georg Büchner, Jeff Wall, and many others, while at the same time dealing with them in a respectful, yet ironic manner. One extensive group of works is based on the artist's own unconventional library, and offers annotations, appendices, bookmarks, reading compendiums, as well as display furniture making stylistic reference to Donald Judd. This catalogue also features Graham's paintings, which explore the myths surrounding classic modern painters such as Picasso and other masters.