---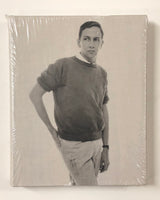 Robert Rauschenberg: Combines by Paul Schimmel, Robert Rauschenberg, Thomas Crow and Branden W. Joseph


folio. pp. 324. profusely illustrated. cloth. dw. Los Angeles: The Museum of Contemporary Art, 2005.


New in publisher's shrink wrap.


ISBN-10: 3865211453 / ISBN-13: 9783865211453
______________________________________________________________________________________________
Poetic and lush, Robert Rauschenberg's Combines present layers of complex and sometimes conflicting information. This approach, first explored by Rauschenberg in the early 1950s, proved prescient and has become increasingly relevant in the current age of cascading information, when even the most ground-breaking artists are referencing and sampling disparate elements to create new forms. The Combines suggest the fragility of definitions, the fluidity of materials and the complexity of forms that are characteristic of Rauschenberg's works. The artist's handling of materials provides a precise physical evolutionary link between the painterly qualities of Abstract Expressionism and iconographical, subject-driven early Pop art. This book focuses on the works created roughly between 1954 and 1964, the most important decade in the artist's 50-year career, and constitutes the most complete survey of the Combines ever presented, as well as the most rigorous analysis of their political, social, autobiographical and aesthetic significance. An introductory essay by exhibition curator Paul Schimmel titled "Reading Rauschenberg" offers an iconographic analysis of the earlier Combines, based on in-depth conversations with the artist. Other texts help to contextualize the Combines, such as Thomas Crow's essay that calls them the major artistic statement of their time, and the one body of art that could simultaneously hold its own from de Kooning to Pop art.