---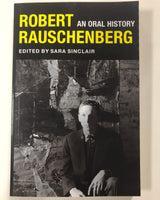 Robert Rauschenberg: An Oral History
Edited by Sara Sinclair with Mary Marshall Clark and Peter Bearman


8vo. pp. xxv, 297. 15 colour plates and b/w text illus. index. wrs. New York: Columbia University Press, [2019].
New.
ISBN-10:
0231192770
/ ISBN-13: 9780231192774
Robert Rauschenberg is a work of collaborative oral biography that tells the story of one of the twentieth century's great artists through a series of interviews with key figures in his life - family, friends, former lovers, professional associates, studio assistants, and collaborators. The oral historian Sara Sinclair artfully puts the narrators' reminiscences in conversation, with a focus on the relationship between Rauschenberg's intense social life and his art.