---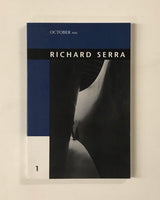 Richard Serra (October Files) Edited by Hal Foster and Gordon Hughes
Essays by Benjamin H.D. Buchloh, Annette Michelson, Yve-Alain Bois, Donald Crimp, Rosalind Krauss and Hal Foster


8vo. pp. 205. black and white illustrations. index. paperback wrappers. Cambridge: The MIT Press, [2000].
October Files # 1.

New.
ISBN-10: 0262516306 / ISBN-13: 9780262561303

___________________________________________________________________________________________

A critical primer on artist Richard Serra's work.
Richard Serra is considered by many to be the most important sculptor of the postwar period. The essays in this volume cover the complete span of Serra's work to date―from his first experiments with materials and processes through his early films and site works to his current series of "torqued ellipses." There is a special emphasis on those moments when Serra extended aesthetic convention and/or challenged political authority, as in the famous struggle with the General Services Administration over the site-specific piece Tilted Arc. October Files October Files is a new series of inexpensive paperback books. Each book will address a body of work by an artist of the postwar period who has altered our understanding of art in significant ways and prompted a critical literature that is sophisticated and sustained. Each book will trace not only the development of an important oeuvre but also the construction of the critical discourse inspired by it. The series editors are Hal Foster, Benjamin H. D. Buchloh, Annette Michelson, Yve-Alain Bois, and Rosalind Krauss.