---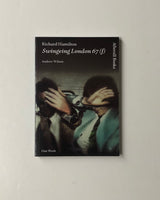 Richard Hamilton Swingeing London 67 (f) by Andrew Wilson
One Work series

8vo. pp. 130. illustrated. paperback. [London: Afterall Books, 2011].
NEW & out-of-print.
ISBN-10: / ISBN-13: 9781846380778
_______________________________________________________________________________________________
An illustrated study of Richard Hamilton's famous Pop art painting of Mick Jagger and art dealer Robert Fraser in handcuffs.

One of the defining paintings of British Pop art, Richard Hamilton's Swingeing London 67 (f) depicts two men--Mick Jagger and Hamilton's art dealer Robert Fraser--handcuffed together in the back of a police van. The image is taken from a newspaper photograph that shows the two being driven from Lewes prison to Chichester Magistrates Court following their June 1967 arrest for possession of drugs. The title is a clever and bitter play on words, conflating the "swinging" of 1960s-era London with the "swingeing" (to swinge is to beat or scourge) punishment meted out to new cultural heroes by the law. Hamilton's painting is far from reportage; it portrays the historical clash of cultures between Pop (and Pop art) and the establishment.

In this illustrated study of Hamilton's celebrated painting, Andrew Wilson views Swingeing London 67 (f) as history painting, to be understood in the context of the struggle against the British state's attempt--aided and abetted by the popular press--to repress any expression of personal liberation. Hamilton's Pop art idiom of figuration and media images was his way of refusing the demands of an old aesthetic order. For him, Pop art was the expression of an open-ended, analytical, critical, and artistic process that reflected his own direct engagement with ethical issues. With Swingeing London 67 (f), Hamilton offers not only a representational image but also a trigger for critical activity--an image of an event and an image of what determines the conditions of that image.