---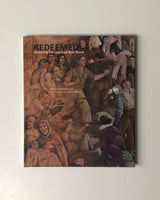 Redeemed: Restoring the Lost Fred Ross Mural by Virgil Hammock, Charles Hill, John Leroux, Tom Smart, William Forrestall
Photographs by James Wilson

8vo. pp. 103. colour & b/w illustrations. hardcover boards. dw. Fredericton: UNB Art Centre. University of New Brunswick, [2013].
New & out-of-print.
ISBN-10: 1551311720 / ISBN-13: 9781551311722
_______________________________________________________________________________________________
When it was first unveiled on Empire Day in 1948, Fred Ross's mural The Destruction of War & Rebuilding the World through Education held a special place in the civic consciousness of New Brunswick citizens. Originally commissioned as a memorial to the 63 Fredericton High School students whose lives were lost in the Second World War, the mural was later dismantled, placed in storage, and eventually disappeared.
In the 1990s, a chance discovery of the full-scale mural drawings, now housed at the National Gallery of Canada, provided what would eventually become a treasure map-like route to the mural's restoration. With what grew to be nationwide support, three studio assistants, who were guided by Fred Ross and the drawings that he had created more than 60 years earlier, retraced the developmental process of the mural in what would prove to be the most ambitious reanimation of a cultural treasure in Canadian art history. This is the unprecedented story of the mural's history — its creation, loss, and eventual restoration and return to public prominence.