---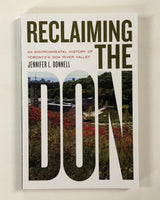 Reclaiming The Don: An Environmental History of Toronto's Don River Valley
by Jennifer L. Bonnell

8vo. pp. xxx, 277. b/w map & text illustrations. 4 colour plates. wrs. Toronto: University of Toronto Press, 2014.


New.

ISBN-10:
1442612258
/ ISBN-13: 9781442612259


_____________________________________________________________________________________________

A small river in a big city, the Don River Valley is often overlooked when it comes to explaining Toronto's growth. With Reclaiming the Don, Jennifer L. Bonnell unearths the missing story of the relationship between the river, the valley, and the city, from the establishment of the town of York in the 1790s to the construction of the Don Valley Parkway in the 1960s. Demonstrating how mosquito-ridden lowlands, frequent floods, and over-burdened municipal waterways shaped the city's development, Reclaiming the Don illuminates the impact of the valley as a physical and conceptual place on Toronto's development.
Bonnell explains how for more than two centuries the Don has served as a source of raw materials, a sink for wastes, and a place of refuge for people pushed to the edges of society, as well as the site of numerous improvement schemes that have attempted to harness the river and its valley to build a prosperous metropolis. Exploring the interrelationship between urban residents and their natural environments, she shows how successive generations of Toronto residents have imagined the Don as an opportunity, a refuge, and an eyesore. Combining extensive research with in-depth analysis, Reclaiming the Don will be a must-read for anyone interested in the history of Toronto's development.