---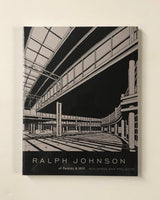 Ralph Johnson of Perkins & Will: Buildings & Projects by Robert Bruegmann



4to. pp. 224. profusely illustrated. paperback wrappers. New York: Rizzoli, 1995.


New in publisher's shrink wrap.

ISBN-10: 0847818632 / ISBN-13: 9780847818631

_______________________________________________________________________________________________


Since joining Perkins & Will in the late 1970s, Ralph Johnson has revitalized the venerable Chicago firm with a flurry of award-winning projects ranging from public schools across the country to the Morton International Building in Chicago, to large-scale buildings in Korea and Singapore. Johnson has been widely acclaimed for designs that incorporate complex programs with dynamic, modern forms and a sensitive respect for surrounding context and landscape. He subsumes a strong personal signature into broader concerns for spatial clarity and the urban fabric, suffusing his work with the spirit of the southern European rationalists and the Dutch moderninst Willem Dudok, as well as Eliel and Ero Saarinen, with whom Perkins & Will collaborated on the famous Crow Island School in Illinois in the late 1930s.

This first monograph on Johnson's work presents thirty-seven of his projects, organized according to building type and illustrated with photographs, plans, and the architect's striking black-and-white renderings. Included are celebrated earlier projects, such as Capital High School and Desert View Elementary School in New Mexico, of the 1980s, and recent, high-profile commissions: the International Terminal at O'Hare airport in Chicago; Orland Park Village Center in Orland Park, Illinois; three new high schools; and several prominent university facilities, among them the Tarry Research and Education building at Northwestern University and Temple Hoyne Buell Hall, which will house the new graduate schools of architecture, landscape architecture, and urban planning at the University of Illinois in Champaign. A brief essay by Johnson prefaces each section, while the introduction gives a chronological account of Johnson's career and the influences on his work.