---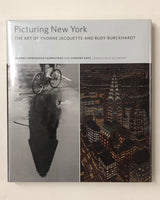 Picturing New York : The Art of Yvonne Jacquette and Rudy Burckhardt by Andrea Henderson Fahnestock and Vincent Katz
Introduction by Bill Berkson

4to. pp. 144. profusely illustrated. chronologies. biographies. hardcover boards. dw. [Piermont, NH]: Bunker Hill Publishing in association with Museum of the City of New York, [2008].
New.

ISBN-10: 1593730659 / ISBN-13: 9781593730659

________________________________________________________________________________________________
The New York paintings and pastels of Yvonne Jacquette, one of America's most distinguished contemporary painters, and the New York photographs of her late husband Rudy Burckhardt, whose unconventional art has spawned a large and devoted following, are the subjects of this intriguing look at a slice of the New York art world from the 1930s to the present. Picturing New York: The Art of Yvonne Jacquette and Rudy Burckhardt explores this remarkable pair of artists whose work celebrates New York's streets and skyline, capturing both the intimacy and the expansiveness of the city.Yvonne Jacquette and Rudy Burckhardt were creative and personal partners for nearly forty years, from the time of their meeting in 1961 until Burckhardt's death in 1999. Burckhardt, born in 1914 in Basel, Switzerland, came to New York in 1935, and Jacquette, a Pittsburgh native twenty years his junior, arrived in 1955. Although they traveled broadly for artistic subject matter, they were based in New York City, spending most of their careers in the West 20s, where Jacquette's studio still is. They sometimes collaborated, usually on films, but mostly each pursued independent work in photography and painting. Despite this independence, their approaches to representing the city share visual and philosophical parallels.The dazzling urban nocturne is Jacquette's primary subject. For thirty years, she has made night paintings from aerial vantage points of such cities as Tokyo, San Francisco, Washington, Hong Kong, and Chicago-along with bird's-eye views of Maine and Midwestern farmland-but her images of New York City are without question the strongest and most celebrated. These dramatic and glittering canvases are striking for their bold compositions, surface richness, and the powerful presence of their grand scale. Jacquette has described herself as a portraitist of American cities, and none has been more frequently or more affectionately depicted than New York-its splendid architecture, neon signage, bridges, streets, and waterways-and indirectly, the electricity that makes it all visible at night.Burckhardt, whose photographs and films of New York have inspired a cult following, made images of the city's architecture, streets, and inhabitants in a singular style-apolitical and seemingly uncomposed-that broke with tradi-tion and influenced younger generations of photographers. From iconic views of New York's skyscrapers, to close-up architectural details, to storefronts splashed with advertising signage, to New Yorkers walking their streets and riding their subways, the variety of Burckhardt's subject matter conveys his never-ending fascination with the city's scale and diversity. His images convey his own sense of wonder about New York and invite viewers to share in his pleasure of the city's unexpected moments and unexplored places.Coinciding with exhibitions on both artists at the Museum of the City of New York, Picturing New York: The Art of Yvonne Jacquette and Rudy Burckhardt offers a unique look at the work of this important creative couple side by side and the place they hold in the New York art world.