---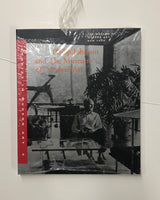 Philip Johnson and The Museum of Modern Art (Studies in Modern Art 6)
Essays by Kirk Varnedoe, Terence Riley, Peter Reed and Mirka Benes

4to. pp. 168. 150 illustrations, 16 in colour. paperback wrs. New York: The Museum of Modern Art, 1998.

New in publisher's shrink wrap.
ISBN-10: 0810961822 / ISBN-13: 9780810961821

____________________________________________________________________________________________
This sixth volume in the Studies in Modern Art series focuses on the architect Philip Johnson and his long association with The Museum of Modern Art. Essays examine his roles as patron, as curator, and as the institution's unofficial architect from the late 1940s to the early 1970s. Series edited by John Elderfield
An essay by Kirk Varnedoe, former Chief Curator of the Department of Painting and Sculpture at the Museum, presents an overview of the significant donations made by Johnson to the Museum collections between 1932 and 1996, among which is a group of key paintings and sculptures from the 1960s by Robert Rauschenberg, Andy Warhol, Claes Oldenburg, Roy Lichtenstein, and Frank Stella. Terence Riley, former Chief Curator of the Department of Architecture and Design at the Museum, provides a critical analysis of the landmark exhibitions Johnson organized for the Museum, and their formative influence on the fields of modern architecture and design. Mirka Beneš, Associate Professor of the History of Landscape Architecture, Graduate School of Design, Harvard University, discusses Johnson's design of The Abby Aldrich Rockefeller Sculpture Garden (1953) and traces the Garden's evolution within the context of international trends in landscape architecture from the nineteenth to the mid-twentieth century.