---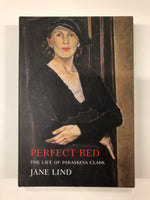 Perfect Red: The Life of Praraskeva Clark by Jane Lind

4to. pp. 314. 24 double-sided colour plates & 8 double-sided b/w plates. index. bds. dw. [Toronto]: Cormorant Books, [2009].


First Edition.
New.

ISBN: 9781897151440
Artists and mother, Russian and Canadian, Communist and Rosedale matron. Paraskeva Clark lived a life of many contradictions.
Born into a working-class family in St. Petersburg, Russia, in 1898, Paraskeva Clark's early political works were inspired by social conditions in the country during the Depression. She moved to Paris after being widowed, and met a Canadian accountant names Phillip Clark, who brought her back to Toronto.
It did not take long for Paraskeva to make a name for herself in Canada. Her striking portraits and picturesque landscapes, feisty demeanour, and powerful social conscience brought her fame in both art and political worlds.
Perfect Red: The Life of Paraskeva Clark is the remarkable story of a woman who, faced with challenge of starting over and raising a family in a new land, went on to become an influential personality in the early twentieth-century Canada.