---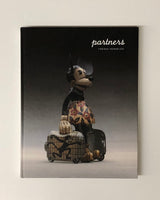 Partners Curated by Ydessa Hendeles From Her Collection Edited by Christ Dercon & Thomas Weski
folio. pp. 240. English & German text. illustrated. hardcover boards (near fine - head of spine bumped). Koln: Walther Koing, [2003].
ISBN-10: 3883757551 / ISBN-13:
9783883757551
______________________________________________________________________________________________
One of the most powerful people in the art world--and the only Canadian on that list--Ydessa Hendeles is renowned not only as one of the foremost supporters of contemporary art but also as a brilliant curator and collector. The collection she has assembled under the auspices of the Ydessa Hendeles Art Foundation is one of the most original, prescient, and highly regarded contemporary art collections in the world--if one of the lesser known. Large parts of it are being shown for the first time in Haus der Kunst in Munich, assembled and arranged by Hendeles; this book has been conceptualized by her in conjunction with the exhibition. In typical Hendeles fashion,
Partners
combines artworks, press photos, anonymous snapshots, and everyday articles. Maurizio Cattelan's "HIm," a depiction of Hitler on his knees, plays a key role, as does a large installation of thousands of historical snapshots of teddy bears.