---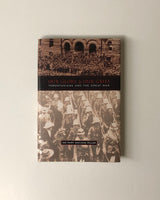 Our Glory & Our Grief: Torontonians and the Great War by Ian Hugh MacLean Miller
8vo. pp. x, 267. 7 b/w illustrations. bibliography. index. hardcover cloth. dw. Toronto: University of Toronto Press, [2002].
New.
ISBN-10: 0802035922 / ISBN-13: 9780802035929
________________________________________________________________________________________________
The citizens of Toronto were thousands of miles behind the front-lines, shielded by the expanse of the Atlantic Ocean. They were never shelled, they were not gassed, and they were never forced to rise from a trench and trust that fate would keep them safe as they walked across No Man's Land. Nevertheless, Torontonians experienced something called 'War.'
Our Glory and Our Grief offers a fresh look at the First World War's effect on Canada's second largest city. What happened in Toronto? What did citizens know about the front? How were the enormous sacrifices of the war rationalized? Why did Torontonians continue to support it?
Ian Miller challenges the conventional notion that Toronto's citizens were shielded from the grisly details and immense sacrifices of the war by censorship and propaganda. Miller's extensive research of newspaper and archival records results in a study of the war years from a number of historiographical perspectives - social, cultural, military, and labour - thus forming a narrative with far-reaching implications for the way the war years in Canada are understood. For example, Miller's discussion of women reveals that their lives were greatly altered by the war effort. They moved out of the private sphere of house and home and into the public domain of munitions factories and recruiting parades. They campaigned to raise funds for the war and supported the enlistment of their husbands and sons - in fact encouraged, cajoled, and finally demanded that men be conscripted for overseas service. By 1918, what it meant to be a 'modern' woman had been transformed.
Contemporaries, argues Miller, knew far more about the nature of the Great War than has ever been acknowledged. The book's aim then, is not to explain the reactions of a public that was denied the opportunity to learn the reality of war. Rather, it is to try to understand why a population that was well informed about what awaited its young men in the trenches of Europe continued to mobilize its resources to achieve victory.